Medical Imaging Detectors
Amcrys is one of the world leaders in production of medical imaging detectors for nuclear medicine. Medical imaging detectors based on NaI(Tl) polycrystals are produced of high-grade crystals, optical and mechanical components and provide perfect image in the energy range from 60 to 360 keV.
Along with small gamma-cameras for inspection of brain, breast, small animals, etc., we produce large medical imaging detectors, intended for the inspection of human body as a whole, with round or rectangular plates of diameter (diagonal) up to 500 mm.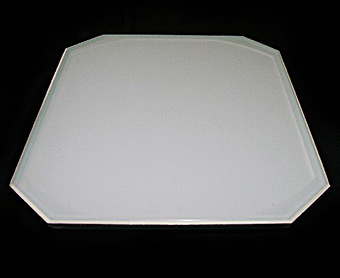 Additional information and features:
Markets and applications
Available dimensions
Related documents
production of large detectors (~9-10 mm thick) for the whole body diagnostics, as well as small detectors (~6-7 mm thick) for diagnostics of separate body organs with low energy
protective glass with advanced properties of optical transmission
reflecting material with the highest characteristics
white epoxy based reflector or white reflecting plastic housing are available for pixelated arrays
resistance to mechanical, climatic and temperature loads
perfect energy resolution and light output allow obtaining qualitative uniform image
products reliability is confirmed by the warranty
Nuclear medicine – SPECT, PET
Plates (only for the NaI(Tl) polycrystals): 593 mm long x 470 mm wide
Cylindrical: up to 500 mm in diameter