Polystyrene-based Scintillators
Plastic scintillators are a solid solution of luminophors (luminescent additives), in a transparent polymer (polystyrene (PST). Many characteristics of plastic scintillation materials (light output, transparency to own emission, decay time, radiation resistance) can be varied by changing their composition.
Scintillators with a polystyrene matrix are used to detect alfa-, beta-, gamma- radiation, x-rays and fast neutrons. Plastic scintillators are manufactured by bulk polymerization in aluminium (size up to 7 m) or glass mode casting as well as injection molding process.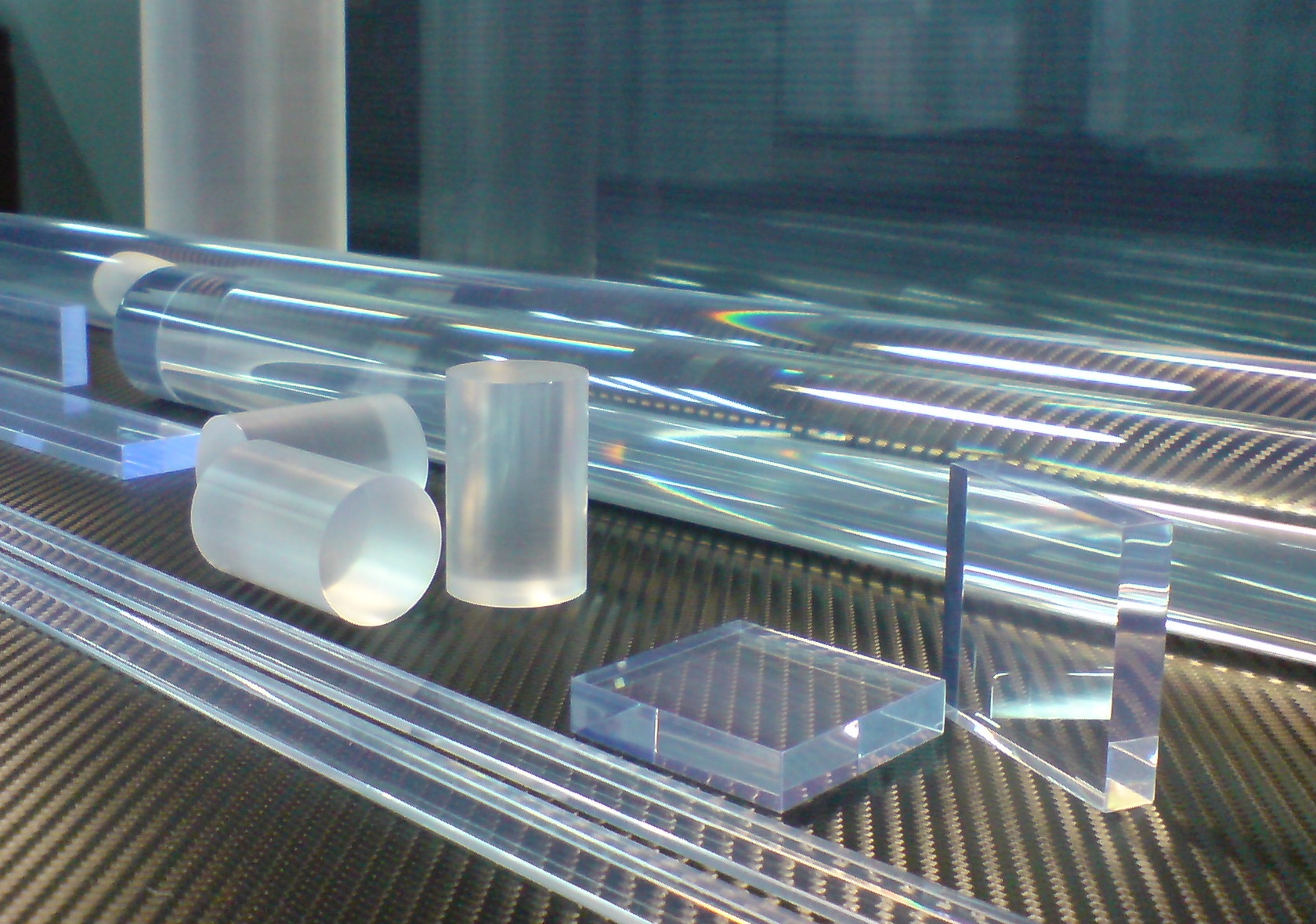 By varying the composition, we can produce:
• fast plastic scintillation material: decay time from 0.9 to 0.5 ns, light output 55-50% of anthracene
• plastic scintillation material having the slow decay component: decay time from 300 to 400 ns, light output 45-40% of anthracene
• radiation hard plastics
• plastic scintillation material of elevated radiation resistance
• scintillation polystyrene with the light scattering additive
• scintillation material for dosimetry
• scintillation polystyrene containing soluted organic compounds of heavy elements (Pb - 12%, Sn - 10%)

Plastic detectors are the main component in design of high spatial resolution position sensitive detection system.
Each strip is polystyrene based extruded plastic scintillator with diffused white reflector and optical fiber light readout channel. Existing standard geometry of the strips includes rectangular or triangular shapes with following dimensions: cross sections 10x40 mm, 10x26 mm, 10x10 mm and up to 7000 mm long.
We also offer designing and manufacturing of complete systems (detector/light collection/signal processing and etc.) according to the customer's specifications.
Additional information and features:
Markets and applications
Available dimensions
Related documents
high light yield
high transparency
large size
General purpose
X-ray, alfa-, beta-, gamma- and high energy particle detection
Cylindrical form: up to 500 mm in diameter
Rectangular form: up to 7000 mm long
Strips: 1 mm in diameter or square 1x1 mm
Films: 0.5mm width